There's been a lot of talk around the blogosphere about unplugging and living life. I've been thinking of doing it myself and have even put a goal on My Bucket List.
That goal?
Give Up Twitter And Facebook For One Week!!
Starting at Midnight tonight, I will be doing just that. I'm deleting the apps off my BlackBerry to get rid of the temptation at my fingertips. And since I don't have a computer, I won't need to worry about that temptation.
Is this something I'm excited about doing? Maybe. I do think I way too addicted to Twitter and taking a break will do me good. I'm not as addicted to Facebook, so that one should be fairly easy.
My blog will still update my Twitter feed when I post something new, but that's the only activity you shall see for a week.
If you need to contact me in the meantime feel free to email me: bablovestwloha [at] hotmail [dot] com
Now on to this new challenge!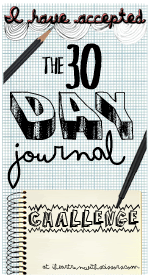 I don't know how I stumbled upon this blog, but I'm glad I did.
Janel is hosting a 30 Day Journal Challenge. She's posting writing prompts every day for 30 days for you to write about.
I love journalling and have rediscovered my love for writing, so this challenge is perfect!
Today is the first day of the challenge and as soon as I make it to the store to buy a new journal (I have a note book addiction), I'm going to get started!
The first prompt can be found HERE!
Come join me!
14hrs and 45mins until my Twitter and Facebook fasting begins! Wish me luck!